Composer - Options and Settings
Main screen

Instruments
Located on the top of the screen, lets you choose from 128 high quality Midi instruments.


Beatbox and percussion
Composer incorporates a beatbox with 30 percussion instruments, 64 rhythm presets and 64 variations, sorted by type of rhythm and style.


Melody, Rhythm and Master volume controls
Independent melody, rhythm and overall volume and On / Off controls.


Presets - Tempo
Presets: Preconfigured Composer songs
Tempo: Adjust the melody speed in BPM (beats per minute).


Keyboard
With the keyboard you can change the overall tune of your melody, raising or lowering the octave.


Player
A standard player with play, pause and stop controls.


Controls
Settings, Recompose, Share, Save (midi files and presets controls) and online tutorial.

---
Settings screen

Base note
Selects the base note of the composition.


Notes range in Octaves
Selects the note range used by Composer. Each unit is an octave.


Notes density
The number of notes per second the composition will have.


Melodic movement
Defines the frequency of the changes in the ascending or descending direction of the melody.


Melodic jump
Modules the notes tonal distance.


Length
Sets the duration of the melody.


Visual Parameters Info
Visual information about the parameter used.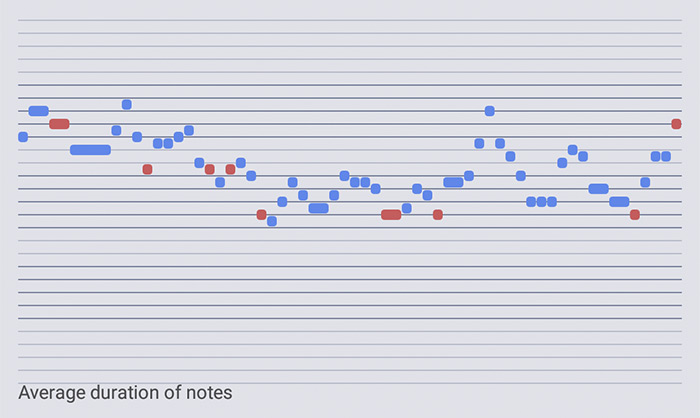 Style / Create
Style selection and create composition controls.