Guitar Droid - Options and settings
Menu and icons
Depending on the type of device used (tablet or phone), you can find all options on the top bar or by pressing the menu button on the phone.
Sound effects
In the sound effects screen you select and adjust the following sound effects.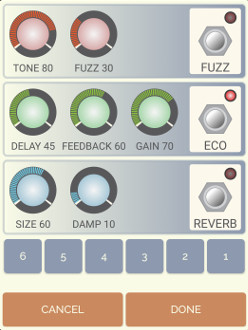 Fuzz

A fuzz effect with distortion tone and level.

Echo

An echo with delay, feedback and gain controls.

Reverb

With reverb size and tone controls.
With the numbered buttons 1 to 6 you can preview the effects applied to each of the 6 open strings, without pressing any fret, before returning to the fingerboard.
Scale or Chord selection

In Scales or Chord modes, displays the screen where you can select the note and the mode of scale or chord.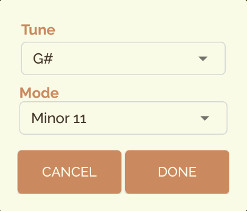 Tone
Use the Tone drop-down to choose the note of the scale or chord
Mode
Use the Mode drop-down to choose the mode of the scale or chord
In lite version only a few modes are available.
Guitar settings

Guitar Droid offers the following guitar settings.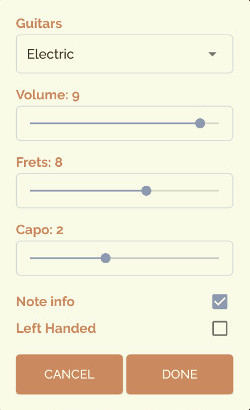 Guitars
All sounds used come from real instruments and have been recorded, sampled and processed, with the highest studio quality sound:
Acoustic
Classical
Electric
Acoustic 12 strings

*

Metal

*

Jazz 330

*
* Pro versión
Volume
From 0 to 10.
Frets
You can select from a minimum of 2 and a maximum of 13 frets, including the open string.
Capo
The highest fret number to put the capo varies depending on the number of selected frets.
Note info
Shows the note name when you pulse.
Left handed
Reverses the strings for the left handed guitarists.
Strings, tunings and instruments settings

You can customize the strings number (from 1 up to 6) as well as each individual string tuning. Only available in Guitar mode. Scale and Chord modes always have 6 strings and the standard tuning (E-A-D-G-B-E).
The number buttons let you hear the corresponding string and shows the number of octave in which it is located.
The Tunings/Instruments drop-down menu lets you choose from 12 alternate tunings and 12 different string instruments.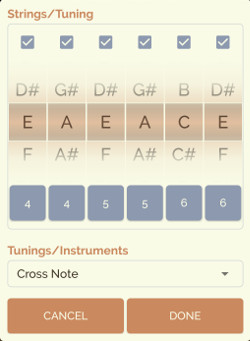 Tunings
Standard
Cross Note
Fourths
Dad Gad

*

Drop D

*

Judy Blue Eyes

*

Laud

*

Nashville

*

Open A

*

Open G

*

Pentatonic

*

RF extended

*
Instruments
Balalaika
Banjo 5 strings
Cavaquinho

*

Charango

*

Cittern

*

Cuatro

*

Dobro

*

Jarana

*

Requinto

*

Shamisen

*

Ud

*

Ukelele

*
* Pro version